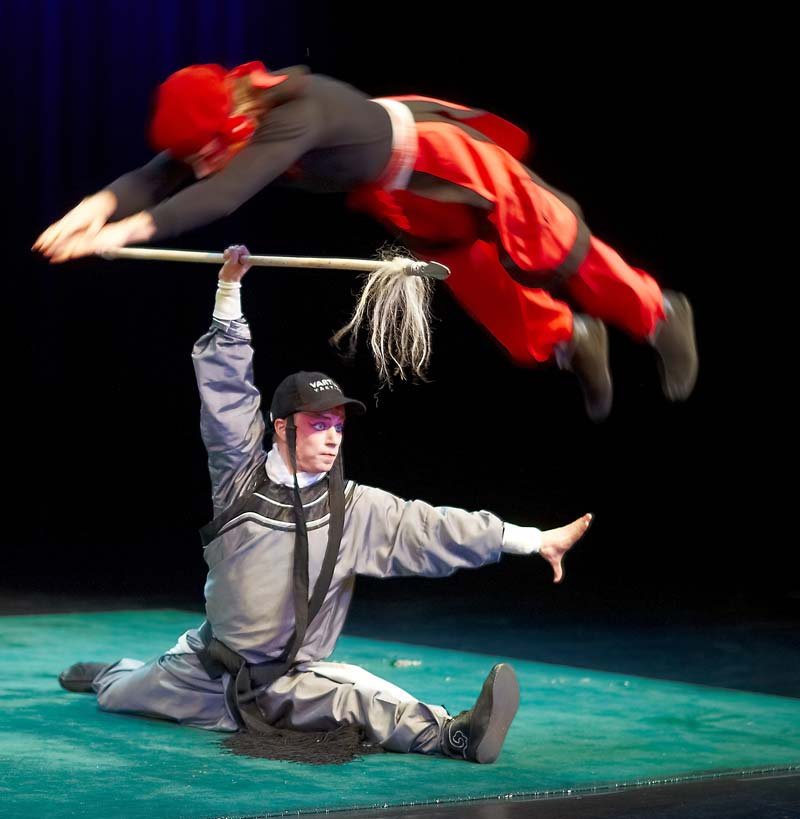 The Guard – an everyday hero
The country's mail delivery system is in danger!
The Guard – an everyday hero is an eventful and comical story about a Finnish guard's night shift at the Postal Centre, which proves to be more challenging than normal. The guard is faced with a group of bitter officers, whose goal is to put a stop to mail delivery in the whole country. The guard, however, is not a normal guard, and the night turns into a marathon of epic combat and funny blunders. Dubbed as the very first Finnish Beijing opera, this performance looks up to 80's actions films while skillfully utilizing elements from the traditional Beijing opera.
Premiered first in 2013 Guard – an everyday hero had its premiere rerun in 2017 at Alexander Theatre, Helsinki, as a renewed version with a new cast.
In the end of September 2017 Wusheng Company participated in a Peking opera contest in China with an excerpt from The Guard – an everyday hero. The contest was organized for the Peking opera groups coming outside of China. Wusheng Company came in second place.
Director and Choreography
Antti Silvennoinen
On stage
2017 Antti Silvennoinen, Valter Sui, Jaakko Hutchings, Jilka Repo
2013 Antti Silvennoinen, Ville Seivo, Simon Strömsund, Jere Värri
Musicians
2017 Joakim Berghäll, Pekka Saarikorpi
2013 Olli Kari, Pekka Saarikorpi
Venue
2017: Alexander Theatre Helsinki
2013: Cultural Centre Stoa, Kanneltalo, Klockriketeatern
Premiere
10.1.2013
Premiere rerun
12.1.2017
Length
60 min
Language
Finnish
Photos
Kari Rosenberg